Fort Lauderdale Facelift Surgery With A Specialist
A Rhytidectomy (facelift) is a surgical procedure that is used to address signs of aging in the face. Dr. John Michael Thomassen is a board certified plastic and reconstructive surgeon in Fort Lauderdale, FL., who frequently performs facelifts. Dr. Thomassen performs Rhytidectomy to improve an individual's skin tone, to diminish the deep lines beneath the lower eyelids and reduce the visibility of the lines that begin at the nose and extend to the outer corners of the mouth. A facelift may also include the removal of excess fat resting beneath the chin and the jaw.
Why Do People Choose to Have a Facelift?
Many of Dr. Thomassen's patients state that they feel younger than they actually look. By having a Rhytidectomy, patients regain a more youthful appearance, which improves their self-confidence and allows them to enjoy their lives to the fullest. Facelifts remain as one of the most frequently performed cosmetic procedures in the nation.
What Causes the Face to Age?
Stress, gravity, environmental factors, genetics and other issues can negatively affect the defined contours of the face. With time, the underlying muscles and tissues in the face may begin sagging, which eventually changes the contour of an individual's face. During a facelift with Dr. Thomassen, he can address the signs of aging to restore youthful characteristics to the face. Following a Rhytidectomy with Dr. Thomassen in Fort Lauderdale, the majority of patients experience a boost in their self-confidence.
The Benefits of a Rhytidectomy in Fort Lauderdale
Dr. Thomassen offers traditional facelifts and mini facelifts to the residents of Fort Lauderdale and its surrounding communities. Individuals who are interested in appearing more youthful and refreshed should consider a facelift because this procedure offers numerous benefits.
These benefits include:
Tightening of the skin – excess skin is trimmed away.
An enhanced facial silhouette – a mid and/or lower facelift can refresh the appearance of the lower eyelids, jaw line, cheeks and neck. Liposuction can be used to remove excess fat from the neck and jowls: Thus, providing the patient with a more youthful, smooth and toned appearance.
Improved appearance with strategically-placed incisions – when performing a Rhytidectomy, Dr. Thomassen keeps the incisions subtle by placing them in discreet locations. No two faces are identical, therefore, Dr. Thomassen customizes each surgical plan to meet the specific needs of a particular patient.
The Importance of Choosing an Experienced Plastic and Reconstructive Surgeon in Fort Lauderdale
A Rhytidectomy should not change an individual's natural facial expressions or make the patient unrecognizable. Instead, a successful facelift result involves subtly improving the contours of the face to essentially turn back the hands of time and provide the patient with a healthier looking, more attractive version of himself or herself.
An Initial Consultation at Thomassen Plastic Surgery in Fort Lauderdale
During an initial consultation, Dr. Thomassen will ask questions related to the patient's medical history.
Patients should be prepared to provide him with information related to:
Current medication, vitamin and herbal supplement use
Familial medical history (diabetes, high blood pressure, etc.)
Previous surgical procedures and/or other treatments
Dr. Thomassen will also want to know about a patient's pertinent lifestyle choices. He will want to know if the patient:
Drinks alcoholic beverages
Smokes or chews tobacco
Uses recreational drugs
It is essential that patients are candid with Dr. Thomassen and his staff regarding these matters. Each question is asked to ensure the patient's safety before and after surgery.
Once Dr. Thomassen has gathered the information he needs from the patient; he will want to examine his or her facial features. At this time, he may also take photos to use as reference when creating the patient's surgical plan. These photos will also be used for comparison purposes following the procedure.
Preparing for a Rhytidectomy in Fort Lauderdale
Prior to their surgery, patients need to refrain from taking certain medications for at least two weeks before his or her surgical procedure. Medications that are known to increase the incidence of bleeding include products that contain aspirin and ibuprofen.
Individuals who smoke or chew tobacco are advised to stop using these products at least two weeks, preferably four, prior to their facelift with Dr. Thomassen. Nicotine products designed to help an individual stop smoking or chewing tobacco should also be avoided.
Dr. Thomassen may request that patients visit their general practitioner to have a physical prior to their surgery. In addition, patients may need to have blood work and other routine testing performed before their surgery.
Facelift Techniques
There are several techniques that Dr. Thomassen can use when performing a Rhytidectomy. These techniques include a subcutaneous facelift, a superficial musculoaponeurotic system (SMAS) facelift, a composite facelift and a subperiosteal lift.
A Rhytidectomy
A facelift is an outpatient procedure: It takes approximately two hours. Prior to the procedure, Dr. Thomassen and the patient will discuss which technique will meet his or her needs the best. Since patients receive medication during their procedure, they are required to bring a driver with them on the day of their procedure.
What Happens During A Facelift Surgery?
Step 1 – Anesthesia
Medications are administered for your comfort during a facelift procedure. The choices include intravenous sedation and general anesthesia. Your doctor will recommend the best choice for you.
A variety of other procedures can further enhance the outcome of a facelift. They include:
Facial implants
Soft tissue augmentation to recontour the facial structure
Resurfacing techniques to improve the tone and texture of facial skin
Wrinkle reduction by injection
Step 2 – The incision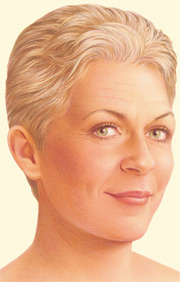 Depending on the degree of change you'd like to see, your rhytidectomy surgery choices include a traditional facelift, limited incision facelift or a neck lift.
Traditional Facelift
A traditional facelift incision often begins in the hairline at the temples, continues around the ear and ends in the lower scalp. Fat may be sculpted or redistributed from the face, jowls and neck. Underlying tissue is repositioned, commonly the deeper layers of the face and the muscles are also lifted.
Skin is redraped over the uplifted contours and excess skin is trimmed away. A second incision under the chin may be necessary to further improve an aging neck. Sutures or skin adhesives close the incisions.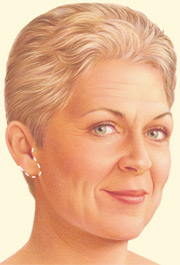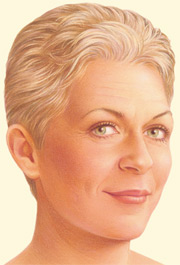 Limited Incision
An alternative to a traditional facelift uses shorter incisions at the temples, continuing around the ear and possibly within the lower eyelids or under the upper lip.
Sagging jowls, loose neck skin and fat accumulation under the chin may be corrected with a neck lift. The neck lift incision often begins in front of the ear lobe and wraps around behind the ear ending in the lower scalp.
Neck Lift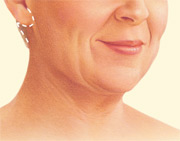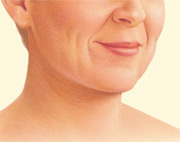 Step 3 – Closing the incisions
Once healed, the incision lines from a facelift are well concealed within the hairline and in the natural contours of the face and ear.
Step 4 – See the results
The visible improvements of a facelift appear as swelling and bruising subside. Your final result should not only restore a more youthful and rested appearance, but also help you feel more confident about yourself.
Facelift Surgery results will be long-lasting
It may take several months for swelling to fully dissipate and up to 6 months for incision lines to mature.
Life-long sun protection will help to maintain your rejuvenated appearance by minimizing photo-aging or sun damage. In addition, a healthy lifestyle will also help extend the results of your rejuvenated, more youthful appearance.

What are the Different Types of Facelifts?
This is probably one of the most frequently asked questions regarding facelifts. There are so many different names used to describe facelifts that it can get confusing very quickly. In reality, all these different names refer to more often than not a very similar technique and sometimes a particular name is used not to differentiate a technique but rather to market a certain practice. A typical example is the so called "Lifestyle Lift" which did not refer to any particular technique but rather to a company that would attract business to its contracted surgeons by promoting the name. As for the bona fide techniques, the list below will attempt to clarify them.
Mini Face lift
a.k.a Mini Lift, S-Lift, Short Scar Facelift
Incision

The Mini Face lift provides a complete natural facelift with minimal incisions. The incision that is omitted is the submental incision or the one under the chin. As for the incisions around the ear, these can be limited to just in front of the ear, extending it to behind the ear. If the scar is extended further into the hairline behind the ear, the incision is no longer considered minimal and the technique starts resembling a full facelift.

Skin-Only

The most basic Mini Lift technique is to make the incision and then remove skin in the area in front of the ear and close the incision. This technique is indicated in the younger cohort of patients desiring facial rejuvenation. The improvement can be subtle and does not last as long as other techniques. Its draw is that it can be performed quickly under local anesthesia in the office setting. However, for the incision used, it is probably better to perform a more sophisticated lift to the improve longevity of the result.

SMAS

The SMAS (superficial musculoaponeurotic system) is the tissue present just underneath the skin in the face. It lies just above the parotid gland and its covering and also just above facial nerves that power the facial musculature.

The five layers of the face, analogous to layers of the scalp and neck. The facial nerve travels deep to layer 3, becoming more superficial within layer 4. (Reprinted with permission from Mendelson B. Facelift anatomy, SMAS retaining ligaments and facial spaces. In: Aston SJ, Steinbrech DS, Walden JL, eds. Aesthetic Plastic Surgery. London: Elsevier; 2009:57.)

When this SMAS tissue is manipulated, the longevity of a facelift is improved. During a Mini Lift, the SMAS can be plicated, where sutures are placed to hold it up. This has been popularized with the MACS lift (Minimal Access Cranial Suspension).

Illustration showing the minimal access cranial suspension lift with loop sutures tethering soft tissue to the deep temporal fascia. (Reprinted with permission from Tonnard PL, Verpaele AM, Morrison CM. MACS face lift. In: Aston SJ, Steinbrech DS, Walden JL, eds. Aesthetic Plastic Surgery. London: Elsevier; 2009:138.)

The SMAS can also be dissected from the underlying tissues forming a flap of tissue that is sutured upwards to hold facial tissues. There are proponents for both types of techniques. Although SMAS manipulation may increase the risk of nerve injury, in experienced hands, this is a rare complication.

Combining a mini-lift with SMAS manipulation is an excellent way to improve the longevity of the result. The more extensive the SMAS dissection, the more the technique starts becoming a full facelift and not a mini-lift.
Traditional Facelift
a.k.a Full Face Lift
A full facelift procedure usually involves access to the neck via a submental incision as well as the periauricular incisions. Also the dissection into the neck is more extensive than in the mini-lift variety. There are a few varieties as listed below:
Neck Dissection
As mentioned, addressing the neck directly elevates a mini lift to a more involved face lift. A common procedure is to make a small incision under the skin dissecting over the platysmal muscles and removing excess fat. This dissection is then communicated with the dissections from each side of the face.

Medial suturing of paired platysma muscles with partial transection of the anterior border. [Reprinted with permission from Stuzin JM. MOC-PSSM CME article: Face lifting. Plast Reconstr Surg. 2008;121(1 Suppl):1–19.]

Subcutaneous Facelift

A subcutaneous facelift involves a wide undermining of skin. This is very commonly combined with manipulation of the SMAS tissues but not necessarily. A wide dissection into the neck is considered necessary to rejuvenate a very wrinkly neck.

SMAS Facelift

The SMAS tissues are manipulated by either suturing tissue superiorly or dissecting the tissue off the underlying tissues and then suturing it up. It is considered an important factor for improving the longevity of results

Illustration showing Barton's "high SMAS," with cheek soft tissue raised along with overlying skin. (Reprinted with permission from Barton FE Jr, Meade RA. The 'HIGH SMAS' facelift technique. In: Aston SJ, Steinbrech DS, Walden JL, eds. Aesthetic Plastic Surgery. London: Elsevier; 2009:133.)

Composite Facelift

The composite facelift involves elevation of the skin flap and the SMAS flap together in one flap. This is recommended in smokers who are at high risk for wound complications. It is technically more challenging and not used often.

Illustration showing Hamra's original composite face lift flap, with orbicularis, malar fat, and platysma raised in continuity with overlying skin. (Reprinted from Hamra ST. Composite rhytidectomy. Plast Reconstr Surg. 1992;90:1–13.)

Subperiosteal Lift

This involves elevation of the cheek soft tissues in the subperiosteal plane. It is more of an adjunct to other techniques and helps correct cheek ptosis. It is not commonly used due to risk of an overdone appearance.