Breast Reduction for Men (Gynecomastia)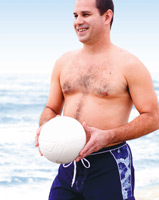 Also known as gynecomastia, breast reduction for men is the surgical correction of over-developed or enlarged breasts in men.
Enhancing your appearance with gynecomastia surgery
Gynecomastia, a condition of over-developed or enlarged breasts in men, is common in men of any age. It can be the result of hormonal changes, heredity conditions, disease or the use of certain drugs.
Gynecomastia can cause emotional discomfort and impair your self confidence. Some men may even avoid certain physical activities and intimacy simply to hide their condition.
Gynecomastia is characterized by:
Excess localized fat
Excess glandular tissue development
A combination of both excess fat and glandular tissue
Gynecomastia may be present unilaterally (one breast) or bilaterally (both breasts)
Is it right for me?
Gynecomastia surgery is a highly individualized procedure and you should do it for yourself, not to fulfill someone else's desires or to try to fit any sort of ideal image.
This procedure is a good option for you if:
You are physically healthy and of relatively normal weight
You have realistic expectations
Your breast development has stabilized
You are bothered by the feeling that your breasts are too large
Adolescents may benefit from surgery, although secondary procedures may be needed in the future should breast development continue.
Surgical correction of gynecomastia is best performed on:
Men whose condition cannot be corrected through alternative medical treatments
Healthy individuals who do not have a life-threatening illness or medical conditions that can impair healing
Non-smokers and non-drug users
Men with a positive outlook and specific goals in mind for improving the physical symptoms of gynecomastia
What happens during gynecomastia correction surgery?
Plastic surgery to correct gynecomastia is technically called reduction mammaplasty, and reduces breast size, flattening and enhancing the chest contours.
In severe cases of gynecomastia, the weight of excess breast tissue may cause the breasts to sag and stretch the areola (the dark skin surrounding the nipple). In these cases the position and size of the areola can be surgically improved and excess skin may be reduced.
Anesthesia
Medications are administered for your comfort during the surgical procedure. The choices include intravenous sedation and general anesthesia. Your doctor will recommend the best choice for you.
Liposuction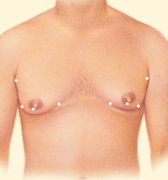 In cases where gynecomastia is primarily the result of excess fatty tissue, liposuction techniques alone may be used.
This requires insertion of a cannula, a thin hollow tube, through several small incisions. The cannula is moved back and forth in a controlled motion to loosen the excess fat, which is then removed from the body by vacuum suction.
There are various liposuction techniques that may be used; the technique most appropriate in your case will be defined prior to your procedure.
Excision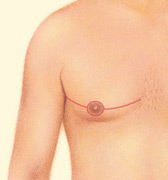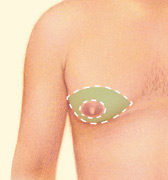 Excision techniques are recommended where glandular breast tissue or excess skin must be removed to correct gynecomastia.
Excision also is necessary if the areola will be reduced, or the nipple repositioned to a more natural male contour. Incision patterns vary depending on the specific conditions and surgical preference.
Sometimes gynecomastia is treated with both liposuction and excision.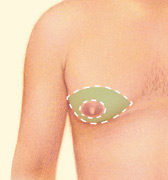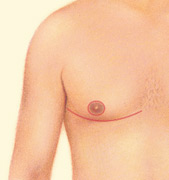 Will there be scars?
Any surgical treatment to correct gynecomastia will require incisions. While most incision lines are concealed within natural contours, some may be visible and are a necessary result of breast reduction surgery.
The results will be long-lasting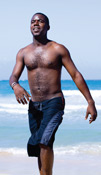 The final results of breast reduction in men are permanent in many cases.
However, if gynecomastia resulted from the use of certain prescription medications, drugs including steroids or weight gain you must be fully free from these substances and remain at a stable weight in order to maintain your results. Please discuss this with your physician before making changes to your prescription medications.
All scars are permanent, even though some scars may be concealed in the natural contours of the breast. Your improved upper body will likely enhance your self-image and confidence, whether in a shirt and tie, a t-shirt, or baring your chest at the beach.
Male Breast Reduction
Some men in and near Fort Lauderdale have a condition called gynecomastia. This condition is characterized by enlarged or over-developed breasts. Gynecomastia can occur at any age and may be caused by hormonal changes, obesity, genetics or due to the use of certain medications. Men with gynecomastia may experience emotional discomfort, which could lead to an avoidance of intimacy. Furthermore, some men will discontinue participating in certain physical activities in an attempt to hide their condition. Needless to say, gynecomastia can negatively affect a man's self-confidence.
Characteristics of Gynecomastia
Characteristics of this condition may be present on one breast (unilaterally) or on both breasts (bilaterally).
Symptoms of gynecomastia include:
The development of excess glandular tissue and/or localized fat.
Excess skin on the breasts.
Severe Cases of Gynecomastia
A man with a severe case of gynecomastia may have breasts that sag: This sagging is caused by the weight of the additional breast tissue. Furthermore, the dark skin that surrounds the nipple may become stretched (areola).
Male Breast Reduction Surgery – The Procedure Steps with Dr. Thomassen
A gynecomastia surgery is an outpatient procedure. For this reason, patients need to bring a driver with them on the day of their gynecomastia procedure.
Anesthesia
Prior to the beginning of the male breast reduction procedure, patients receive medications to keep them comfortable (general anesthesia or intravenous sedation).
Liposuction Technique
If the patient's gynecomastia is due to excess fatty tissue, Dr. Thomassen may only need to perform liposuction to correct the problem:
During liposuction, Dr. Thomassen creates several tiny incisions in the breasts. He uses these incisions to insert a thin, hollow tube (cannula).
Once the cannula is inserted, he uses a controlled motion, moving it back and forth, to loosen excess fat. Furthermore, a liquid specifically designed to liquefy fat is distributed throughout the areas being treated.
Once liquefied, he uses suction to remove this excess fat.
There are several liposuction techniques that Dr. Thomassen can use during a male breast reduction surgery; he will use the technique that he feels will provide the patient with the best results possible.
The Excision Technique
If excess skin or glandular breast tissue needs to be removed, Dr. Thomassen will use the excision technique. With this technique, he can also reposition and reduce the size of the areolas. The incision patterns that Dr. Thomassen uses depends on the specific issues he is correcting via a gynecomastia procedure.
The Liposuction and Excision Techniques, Combined
To achieve optimal results, some men will need Dr. Thomassen to utilize both liposuction and excision techniques.
Recovering from Male Breast Reduction Surgery in Fort Lauderdale
While a man recovers from his gynecomastia surgery, he will have bandages and/or dressings on his incisions. He will also receive a support garment to minimize inflammation and support his chest as it heals.
Dr. Thomassen may place a small, thin tube beneath the skin to drain excess fluid; thus, keeping it from accumulating within the body.
Dr. Thomassen provides his patients with specific instructions following their male breast reduction surgery.
This information may include:
How to effectively care for the surgical site and drains.
Medication instructions.
Specific symptoms that indicate the need for medical assistance.
The date and time of the patient's follow-up appointment.
Although improvement is visible immediately, it will take several months for the full results to be realized. In addition, while incision lines are permanent, they will fade.
Men who are interested in learning more about the various solutions available for gynecomastia at Thomassen Plastic Surgery in Fort Lauderdale should contact the office today.