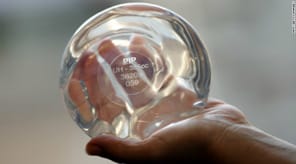 There has been significant concern worldwide regarding the use of a defective silicone gel breast implant manufactured by the company Poly Implant Prostheses (PIP) in France.  The implants were manufactured using non-medical grade silicone gel and the risks reported have ranged from early rupture to a possible cancer risk.  As of today, no definitive evidence is available regarding increase risk of breast cancer with these implants.  Nonetheless, some health ministries in countries where the implants were distributed, including United Kingdom, Spain, Brazil, Argentina, Chile, Colombia and Venezuela, are recommending explanation or replacement of these devices.
Here in the US, the American Society of Plastic Surgery (ASPS) has not taken a definite position on how to treat women with intact and asymptomatic PIP breast implants.  Nonetheless, because of the higher risk of rupture associated with this device, women should pursue imaging studies to determine the condition of the implant.  As more information is obtained regarding the safety of these devices in the future, a call for explanation or exchange may be required.  Currently, the consensus recommends the removal or exchange of the implants to avoid issues related to rupture, implant material leakage, and for the patients' peace of mind.
Some American-based breast implant manufacturers are providing patients in the US support, in the form of rebates, to allow them to pursue an exchange of these implants for FDA approved implants.
Please contact our office at 954-771-0200 if you have any questions regarding this topic, we will be happy to assist you with any concerns you may have.