What Is An Arm Lift?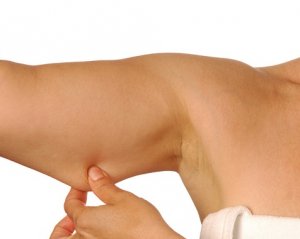 Also known as brachioplasty, an Arm Lift reshapes the under portion of the upper arm, from the underarm region to the elbow
Enhancing your appearance with an Arm Lift Surgery
Fluctuations in weight, growing older and even heredity can cause your upper arms to have a drooping, sagging appearance.
Exercise may strengthen and improve the underlying muscle tone of the upper arm, but it cannot address excess skin that has lost elasticity or underlying weakened tissues and localized fat deposits.
If the underside of your upper arms are sagging or appear loose and full due to excess skin and fat, an Arm Lift may be right for you.
Step 1 – Anesthesia
Medications are administered for your comfort during the surgical procedures. The choices include intravenous sedation and general anesthesia. Your doctor will recommend the best choice for you.
Step 2 – The incision
Inner Arm Incision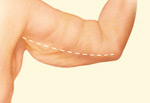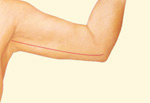 Incision length and pattern depend on the amount and location of excess skin to be removed, as well as the best judgment of your plastic surgeon.


Back of Arm Incision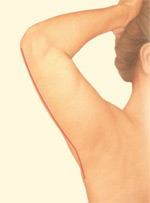 Incisions are generally placed on the inside of the arm or on the back of the arm, depending on the surgeon's preference, and may extend from the underarm (axilla) to just above the elbow. If fat is to be reduced during your Arm Lift, it will be excised or treated with liposuction.


Minimal Incision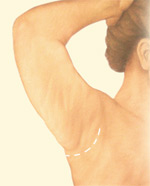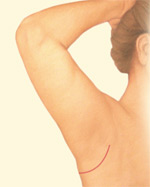 Depending on your specific conditions, incisions may be more limited. Then, underlying supportive tissue is tightened and reshaped with internal sutures. Finally, the skin is smoothed over the new contour of your arm.



Step 3 – Closing the incisions
Your incisions will be closed with absorbable sutures, or stitches that will be removed within 1-2 weeks following your Arm Lift.
Step 4 – See the results
The smoother, tighter contours that result from brachioplasty are apparent almost immediately following your procedure, although initial results will be somewhat obscured by swelling and bruising. Your new, shapely and toned upper arm is dramatically improved both in appearance and feel.
The results will be long-lasting
The results of Arm Lift surgery will be long-lasting, provided that you maintain a stable weight and general fitness. As your body ages, it is natural to lose some firmness, but most of your improvement should be relatively permanent.
An Initial Consultation
During an initial consultation for an Arm Lift at Thomassen Plastic Surgery in Fort Lauderdale, Dr. Thomassen will determine if the patient is a good candidate for an Arm Lift. Dr. Thomassen will want to know specifics related to the medications, allergies, surgical procedures and any other treatments the patient has had.
What to Expect During an Arm Lift
1. Anesthesia
Patients remain comfortable throughout their Arm Lift procedure in Fort Lauderdale because they receive medication to ensure they remain asleep throughout the procedure. Dr. Thomassen will discuss the type of anesthesia he recommends with the patient prior to his or her procedure.
2. The Incision
The length of the incision and the pattern used depends directly on the location and quantity of excess skin that needs to be removed. Incision options include on the back of the arm or on the inside of the arm. The incision length may extend from the patient's underarm to directly above the elbow. If Dr. Thomassen is also reducing the amount of fat in the upper arm, it will be treated with liposuction or excised (cut away). Dr. Thomassen will discuss the incision placement and expected incision length with the patient prior to his or her procedure.
3. Tightening and Reshaping of the Upper Arm
Using internal sutures, Dr. Thomassen will tighten and reshape the patient's underlying supportive tissue. Once complete, the skin is draped over the new contour of the arm.
4. Dr. Thomassen Closes the Incisions
Dr. Thomassen uses stitches or absorbable sutures to close the incisions. If he uses stitches, these will be removed within 2 weeks of the Arm Lift procedure.
Arm Lift Surgery Results
Despite some swelling and bruising, the improved feel and appearance of the patient's upper arms are apparent almost immediately.
Recovering from an Arm Lift
Our goal is to provide our patients with the information they need to experience the easiest, most comfortable recovery possible. For this reason, all of our patients receive post-operative instructions following their surgical procedures. It is essential that these instructions are followed.
Dr. Thomassen frequently provides his patients with enough pain medication to last a few days (as needed). Initially, patients should expect their arms to feel sore. In addition, their mobility will be limited for several weeks.
A Liposuction Procedure During an Arm Lift
1. Tiny Incisions Are Created
Dr. Thomassen may use liposuction to remove areas of localized fat within the upper arm. To accomplish this, he will create tiny incisions and insert a small tube (cannula).
2. The Cannula is Inserted and Liposuction Begins
As the cannula is gently moved back and forth, any excess fat is removed through a suctioning process. Dr. Thomassen will treat the entire bulging area with this process. He carefully removes small amounts of fat at a time, continuously checking the contour and fat thickness of the areas being treated. Once he completes one upper arm, he will move to the other upper arm and perform the same procedure. He repeatedly compares the two sides, adjusting the process to ensure the upper arms match.
3. Closing the Liposuction Incisions
Using stitches, the liposuction incisions are closed.
4. Dressing and/or an Elastic Garment is Applied
Dressing and/or an elastic garment is applied. This dressing and/or elastic garment are used to place a gentle pressure on the skin, which helps prevent excess fluid from accumulating in the areas that Dr. Thomassen performed liposuction on.
Results Achieved During an Arm Lift Surgery Are Long-Lasting
Provided the patient maintains a stable weight and remains physically fit, his or her results will be long lasting. That said, it is expected that an individual will lose some firmness in the upper arms as his or her body continues to age; however, the majority of the results achieved during an Arm Lift procedure are usually permanent.
Contact Our Office For Your Arm Lift Consultation
If the underside of your upper arm appears loose due to excess skin and fat, you may want to consider an Arm Lift. Dr. John Michael Thomassen is a board-certified plastic and reconstructive surgeon who frequently performs cosmetic, reconstructive and plastic surgery procedures, including Arm Lifts. To learn more or schedule your initial consultation, please contact Thomassen Plastic Surgery today at (954)771-0200.